Miyajima's appeal lies in its lively streets and traditional cityscape.
That is the Miyajima we want to preserve.
Interview 02
The "Miyajima Tourist Association" was established to achieve sound development of the tourism industry, regional vitality, and international goodwill. The "Miyajima Omotesando Shopping Arcade" entertains tourists with souvenirs, food and drink, and more to create a lively atmosphere. We spoke to representatives from these two organizations that support the tourism on Miyajima.
Miyajima is where the sea and the greenery shine.
We love this unchanging scenery.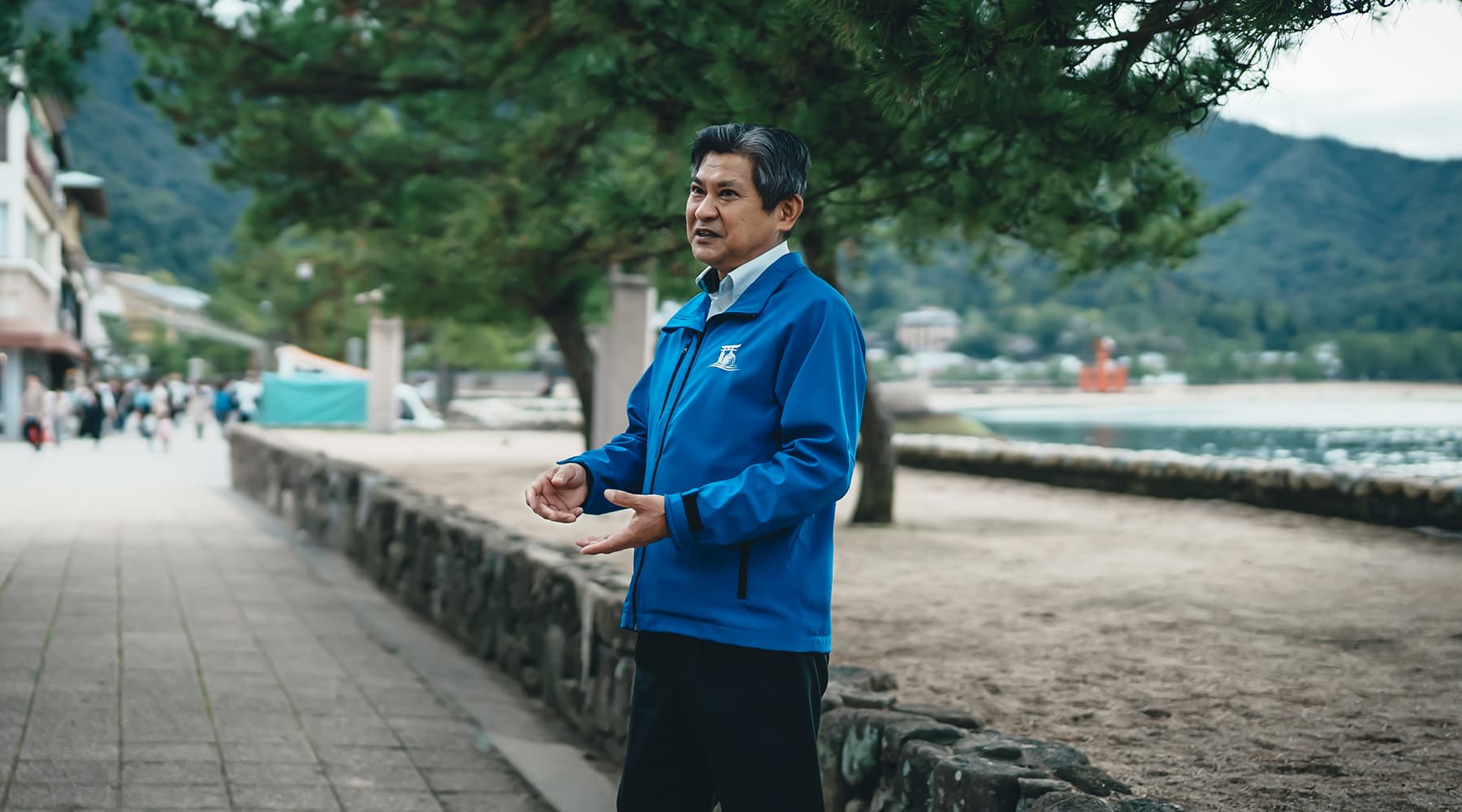 Mr. Ueno was born on Miyajima and has lived there his whole life. When he was a child, he passed by the shopping arcade and Itsukushima Shrine as he went to school each day. At that time, there were approximately 1,000,000 visitors to Miyajima annually. "It was a laid-back tourist site. Old folks would say, 'Welcome,' greeting you while they sat at their kotatsu table."
After that, Japan entered a period of rapid economic growth; family cars became common and the Shinkansen was opened. These and other factors led to a tourism boom. "When I entered the Tourist Association 30 years ago, there were about 2,000,000 visitors annually, and the number of tourists was gradually starting to increase."
Efforts to attract tourism, such as promotional visits and events, also bore fruit as Miyajima gradually become more well-known. When Miyajima was registered as a UNESCO World Cultural Heritage site in 1996, the number of tourists rapidly increased. In 2019, it reached over 4,500,000 people.
"Actually, one of the appealing points of Miyajima is the 10-minute boat ride there. You're not in the tourism site as soon as you get out of your vehicle. For Miyajima, you absolutely have to transfer to a boat. The sense of anticipation of crossing over into the extraordinary builds up your excitement. In addition, I believe the blue seas and the green mountains of Miyajima are appealing. In particular, just after it rains, the mountains glisten in green and are reflected on the sea. I have looked at this scenery for as long as I can remember, but the beauty remains unchanged no matter how much time passes."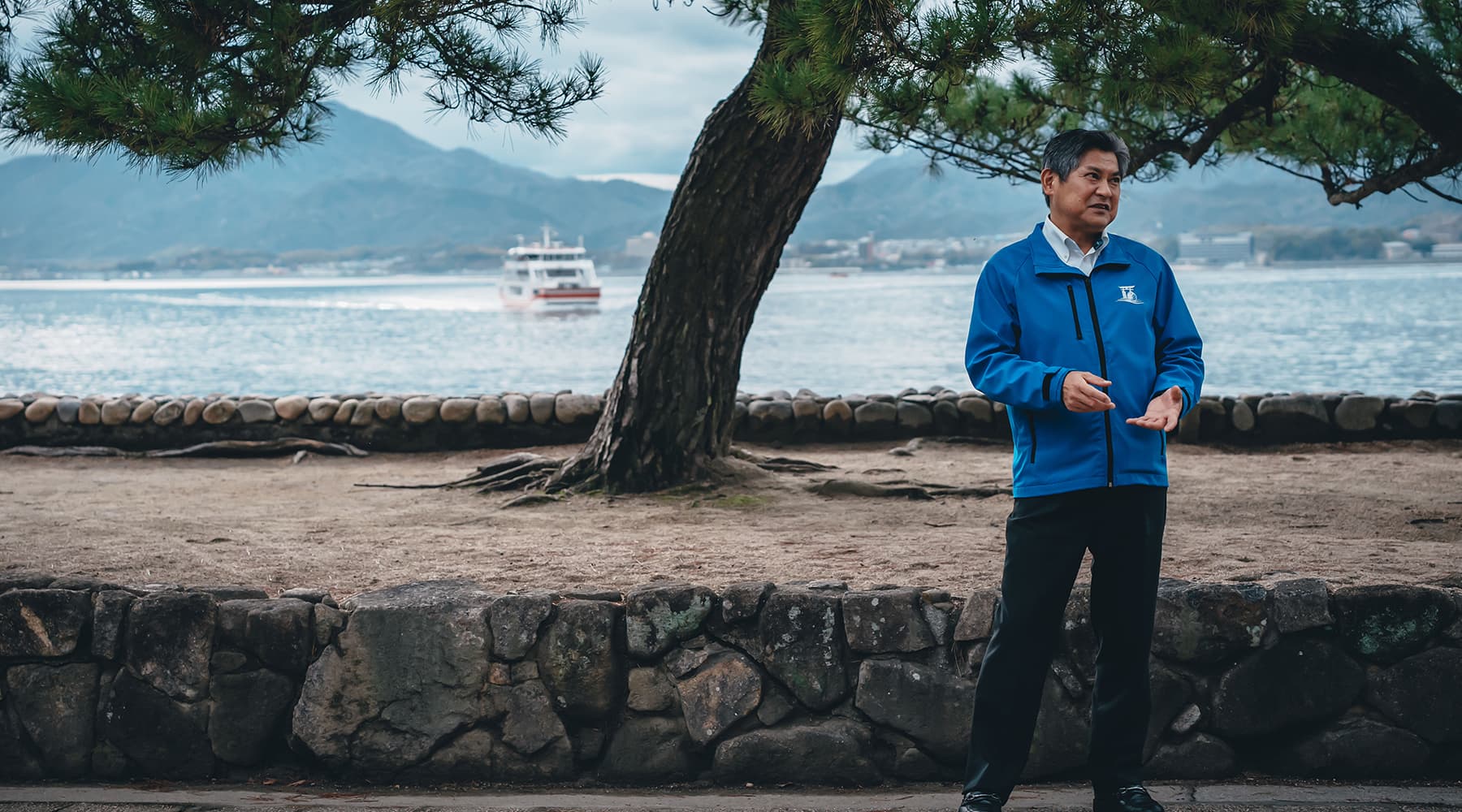 Prospering through tourism while ensuring an atmosphere that is both lively and soothing.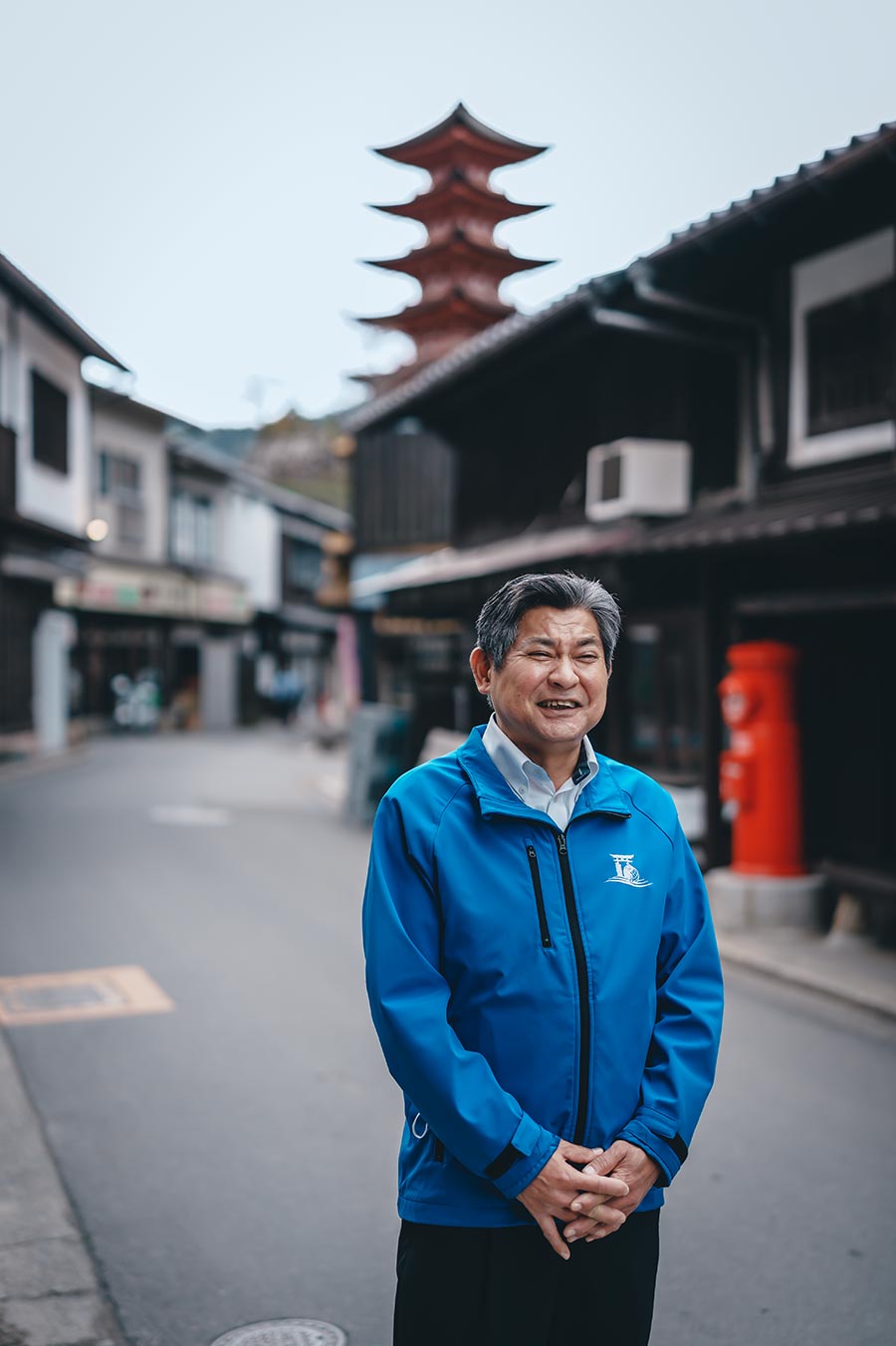 "Since the start of 2023, the number of tourists has been increasing at a speed faster than before the pandemic. While this is much to our delight, I feel we must work to maintain the level of satisfaction. The aims of visitors are becoming more diverse. Some people enjoy sampling various foods as they walk down a lively street, while others come looking for a soothing experience. It is becoming important for us to entertain guests in such a way that they are not disillusioned by the crowds."
When we asked him how the Miyajima where he was born and raised changed over the years, his reply surprised us.
"While the appearance of each individual shop may have changed, it hasn't changed much overall. The scenery has been preserved, and I believe the cityscape of Miyajima will be kept the same even 100 years into the future. A vermillion shrine, green mountains, and blue seas. The contrast between historical buildings and nature. You can appreciate the scenery as it changes from low tide to high tide, watch the sun as it sets from Mikasanohama, and then enjoy the illuminations at night. In the early morning, you can pray at Itsukushima Shrine and then take a leisurely stroll when the air is cool and brisk. That is my favorite unchanging part of Miyajima."
Doing whatever we can, where we can, without doing too much.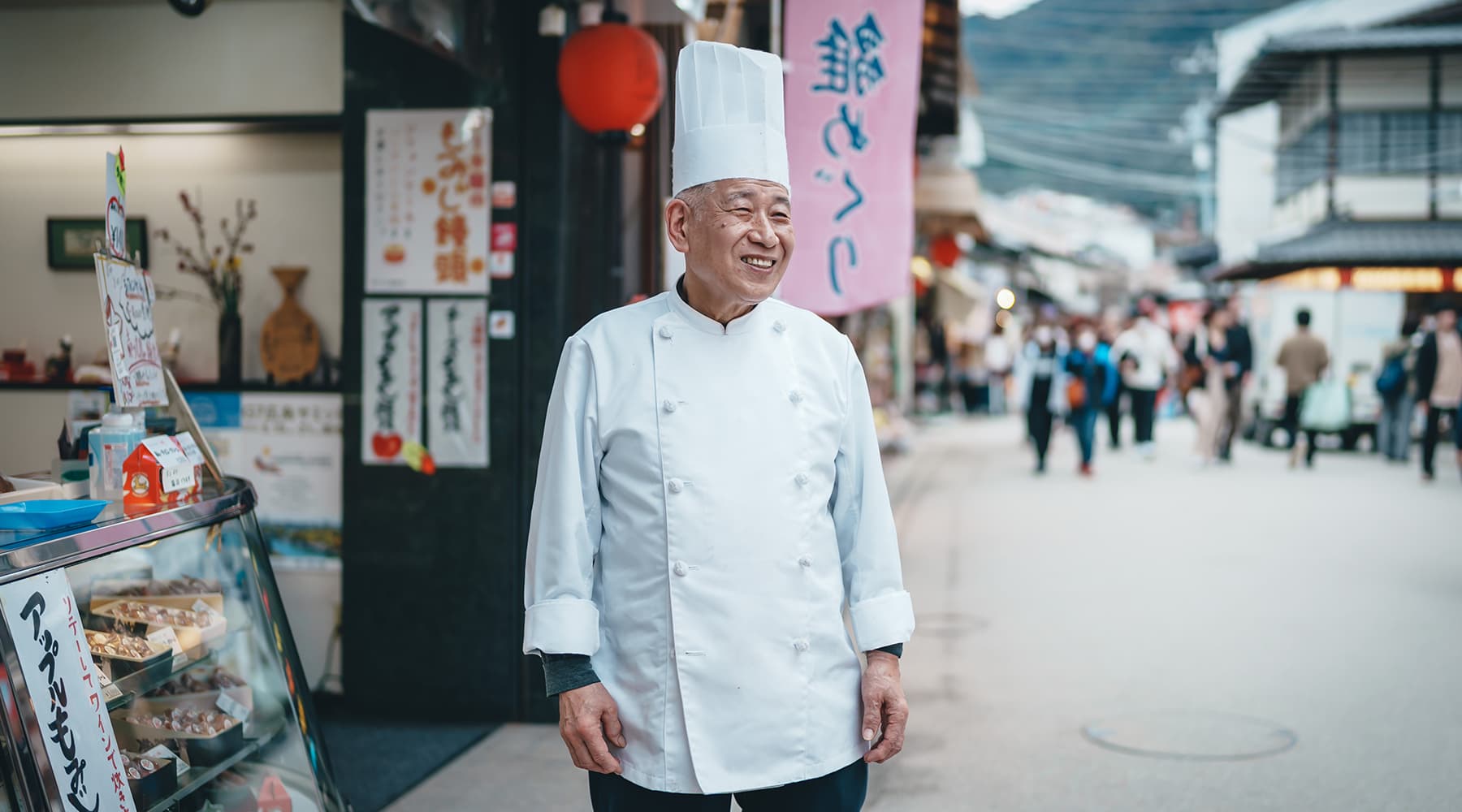 "This place, where the shopping arcade is now, was made through land reclamation in the late Edo period. It is said that when a road was built by the coastline at the start of the Showa period, the shopping arcade association was formed to bring the tourists back to this road. The name at that time was 'Miyajima Hondori Shopping Arcade,' which was then changed to 'Miyajima Omotesando Shopping Arcade' in the early 1980s. When we were creating a new map of Miyajima, we chose that name drawing inspiration from the Omotesando street in Harajuku," reminisces Mr. Kimura.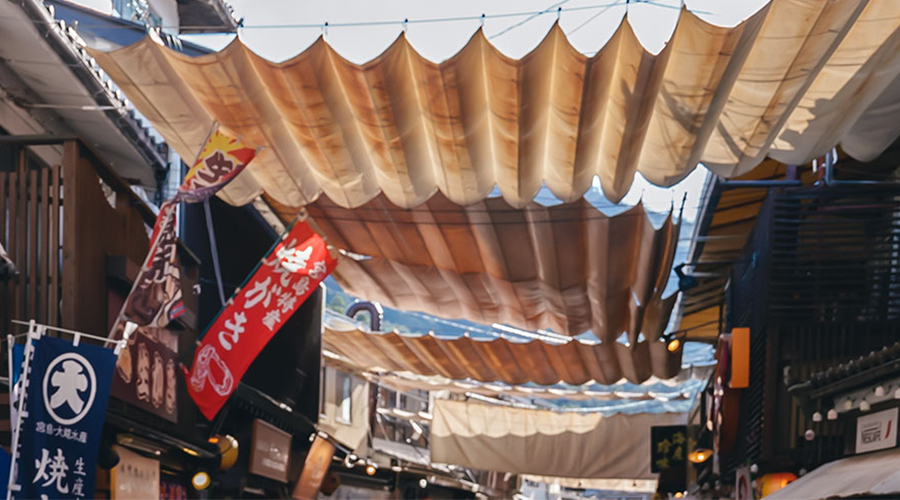 "In order to bring vitality to the shopping arcade, it is essential that we are willing to help one another out. The sunshades attached to the eaves of the shopping arcade are part of that," says Mr. Kimura. He told us that the shops have installed these sunshades not only to block the sunlight that directly shines into their own shop, but also to cooperate with one another and block the wind, in order to reduce the heat or cold felt by visitors.
"When we installed security lighting on the street, the shopping arcade did not have enough funding by itself, so we were supported by the company installing the lighting as well as the local government. During the Kangen-sai Festival, we hold a rice scoop art event, which also helps support the rice scoop industry on Miyajima. This is all based on the spirit of mutual aid, for Miyajima's sake. But, it will be meaningless if we do not continue it. We do whatever we can, where we can, without doing too much."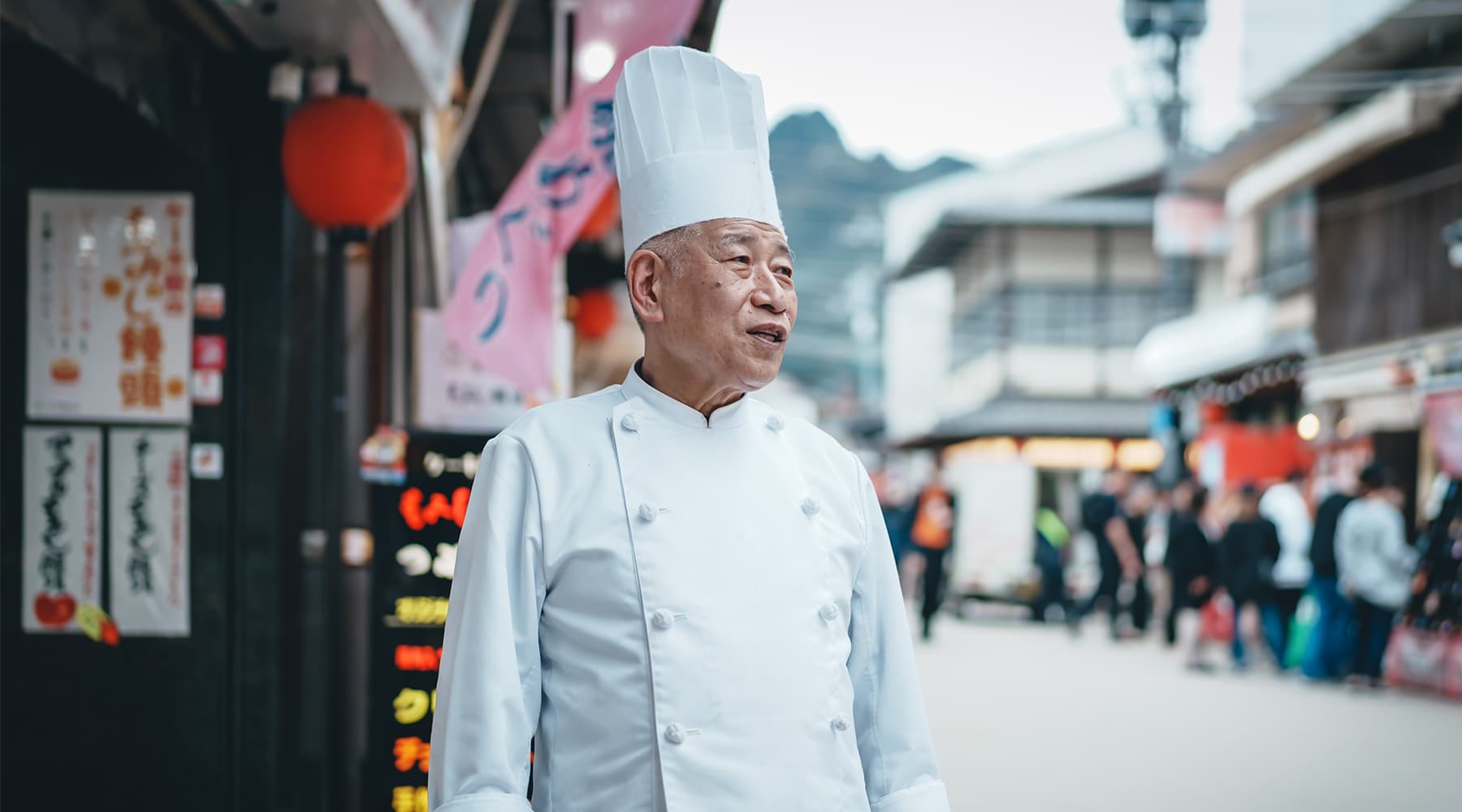 In preparing for disasters as well.
We will protect our beautiful Miyajima and the people here.
Also serving as the chairperson for the voluntary disaster-prevention association, Mr. Kimura feels strongly about disasters. The shopping arcade has many shops that use flames, such as restaurants and confection manufacturers. They are vigilant to prevent fires from spreading, should a fire ever occur.
"Shops crowd the street, and there are also shops that share a wall, so preventing a fire from spreading is the most important issue for us. That's why, when a building or the like is changed, we climb up a small hill to check the routes for firefighting and evacuation."
There are also things that can be done to protect tourists from tsunamis. For example, they have provided signs with "Tsunami" written in English letters beneath the emergency exit marks for foreign tourists to the shops on the corners of the shopping arcade. The shop owners have agreed that, in the event of an approaching tsunami, they will take these signs and call out to one another as they lead people to higher ground.
"No matter how much time passes, I hope we can pass on the beautiful cityscape, nature, traditions, and spirit of helping one another unchanged. In order to attend a vocational school and gain experience in confection making, I left Miyajima, where I was born and raised, for five years. I felt remarkably sad at the end of each of those years, when I could not participate in making pine torches. I pray that the original scenery of Miyajima, which remains in my heart, is passed on unbroken to future generations."