Nature on the "island that is home of gods",
protected by the people.
Interview 01
In 1934, Setonaikai National Park was designated as one of the first national parks in Japan. The entire island of Miyajima, home to Itsukushima Shrine, a World Heritage Site, is designated as a Special Protection Zone/Special Zone of this national park. It is also designated as a Special Historic Site and a Special Place of Scenic Beauty under the Act on Protection of Cultural Properties, and is home to a harmonious ecosystem of diverse plants and creatures. We spoke with Yoshiaki Suehara, president of the Setonaikai National Park Miyajima Zone Park Volunteer Association, a volunteer group that protects the nature and environment of Miyajima, to hear about their activities to date and the feelings that motivate them.
We love Miyajima.
We want to protect Miyajima.
"Our organization was founded more than 20 years ago," says Mr. Suehara, speaking softly. "It all started when the Ministry of the Environment approached me to start a volunteer group in the Miyajima Zone to help protect and ensure proper utilization of the national park." At the time, Mr. Suehara was in charge of general civil engineering at Miyajima Town Hall, before he started working in cooperation with the Ministry of the Environment.
The major activities of the group include cleaning up beaches and mountain trails, conducting surveys of plants, wild birds, and other aspects of the natural environment, holding wildlife observation activities, and publishing newsletters and booklets. The Ministry of the Environment handles membership in the association, and recruits new members every few years. The approximately 40 members (as of 2023), who were officially registered after serving a trial period, voluntarily participate in activities two or three times a month.
"Some of our members have always been knowledgeable about history, plants, and birds, and lead our wildlife observation activities or the like," says Mr. Suehara with a gentle smile. "Each individual has their own thoughts and feelings, such as wanting to protect nature and the landscape, or wanting to learn about Miyajima, but we all love this island."
Nature, people, and history coexist.
The group also invites the general public to participate in wildlife observation activities, but this is not for tourism. Such an activity was held in 2022, for the first time in three years. About 40 people in total, including both members of the association and the general public, set out to conduct fieldwork in the Suginoura area. The tour included a visit to the Hiwada Forest, a national forest in this zone. The area has been designated as a World Cultural Heritage Contribution Forest and serves as a base for learning about the relationship between forests and cultural assets.
Hiwada, or cypress bark, is used to protect the roofs of historical shrines and temples. This bark is harvested from the more than 100 year-old cypress trees on the northeastern slope of the island. A professional bark harvester showed us a tree that had been stripped of its bark several years earlier. He pointed out that the marks left from harvesting have largely disappeared, but that the color and texture of the trunks are different. They carefully protect these trees, while using their bark to protect buildings. This is an example of the coexistence of nature, people, and historical buildings.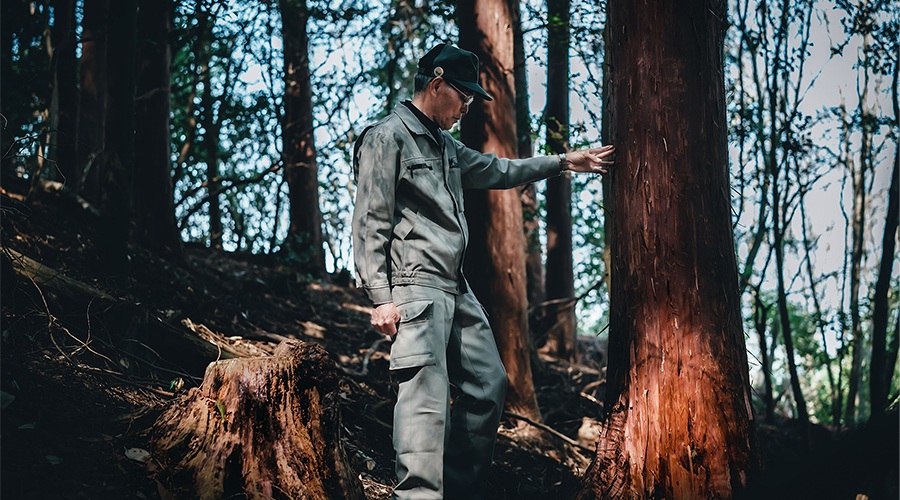 "This place is not visited by tourists, but we want people to know about this side of Miyajima, too," says Mr. Suehara. "I feel a strong attachment to Miyajima, and want to share information about the nature, traditions, and customs that have taken root here."
For example, shikado doors, which are opened by pulling, are used at the entrances to private homes and public restrooms. These doors were designed to block entry by deer, which can push doors open but not pull them. This is wisdom that comes from living in harmony with wild animals such as deer.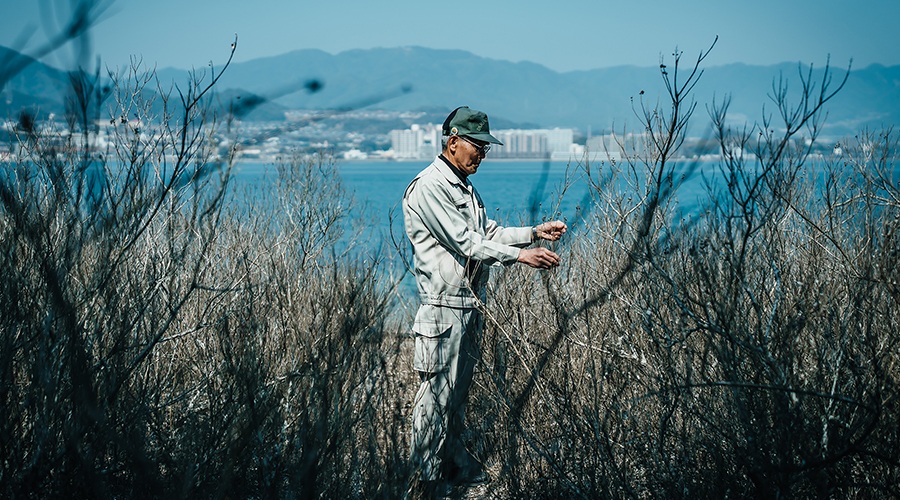 These are people's feelings for the island.
"I understand that it's fun to see cute deer walking around town, but please don't feed the wildlife," says Mr. Suehara. "It is not in the best interest of the animals. I want everyone to be sure to take their garbage home with them, or place it in the garbage cans located in front of the pier. We must do this to protect nature and coexist with wildlife."
There are many rules on Miyajima, such as restrictions on the height and color of buildings and areas that are off limits to the general public. Although this can be inconvenient, it has become a natural way of life for the people who live on this island of the gods. "This level of awareness by the people of Miyajima is what has allowed the island to be protected," says Mr. Suehara. The group will continue its activities as before, while sharing information with other groups such as the Miyajima Misen Preservation Association and the Miyajima Cherry Blossom and Maple Tree Association, in order to protect Miyajima, a place of deep meaning and importance for many people, for future generations.
Mr. Suehara says he is attracted to Miyajima mainly for its natural environment.
"Although the autumn leaves receive much attention, the cherry blossoms and the flowers of the Japanese sapphireberry adorn the mountains in April and May, and the vivid maple trees and fresh green evergreens are also very beautiful," he says. "I hope people will come to see not only the Great Torii Gate, but also the seasonal expressions of Miyajima."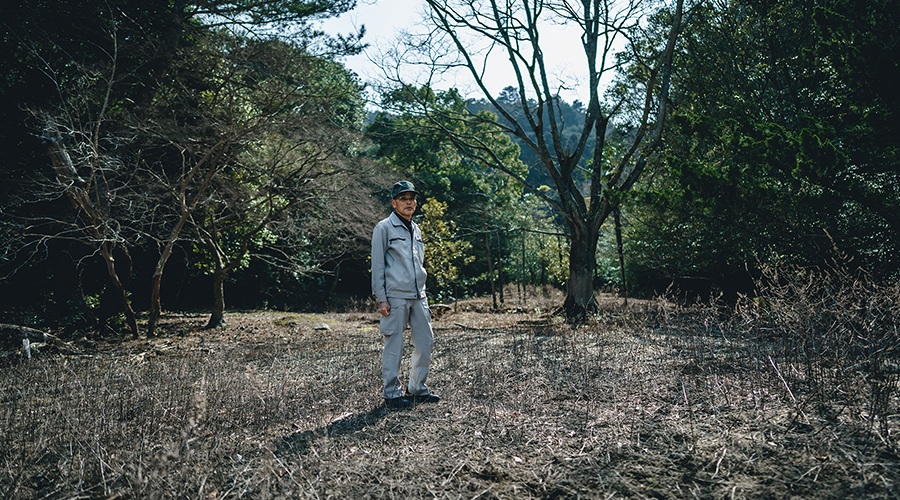 Volunteer Group Activities
Setonaikai National Park Miyajima Zone Park Volunteer Association
Established in 2000 to conduct activities that contribute to the protection and proper use of the national park. Three sub-committees, Observation, Environmental Improvement, and Public Relations, have been established to protect the nature and environment of Miyajima.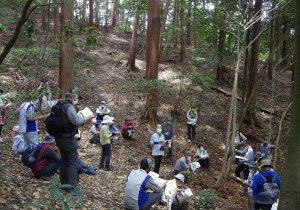 Miyajima Misen wo mamoru kai
(Miyajima Misen Preservation Association)
This group aims to preserve Aki-no-Miyajima, one of the three most scenic spots in Japan, and Mt. Misen, a World Cultural Heritage site, for future generations for many years to come. It conducts cleanup activities on the mountain, study groups, and publicity activities.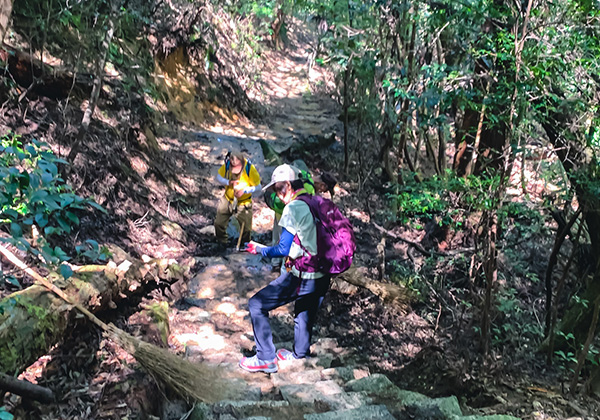 Miyajima Sakura and Momiji Meeting
This group aims to nurture cherry blossoms and autumn leaves, which are symbols of Miyajima and resources for tourism, and maintain a famous area that is loved by many people. It strives to preserve the environment of this charming and beautiful island, which is blessed by both nature and culture.